AMG IC Menu Activation by SmartBenz Master Tool
| | | | |
| --- | --- | --- | --- |
| Code: | SmartBenz | Model: | AMG IC Menu Activation |
Mercedes AMG Instrument Cluster Menu Activaiton by SmartBenz Master Tool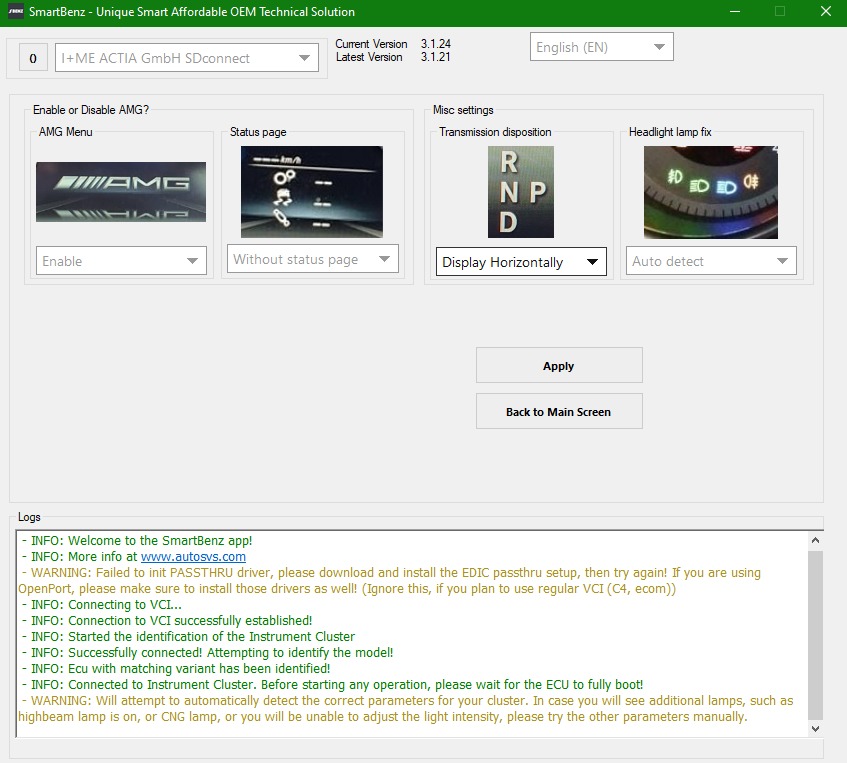 What is included inside the SmartBenz Master Tool?
AMG IC Menu Activation Solutions - Click and Play

Unlimited Car Activations

1-year free upgrade support

Free technical support

Free training

One login credentials

Support IC213 W213 W205 W222 W217 and Old models

AMG Menu Activation
Support Car List
Most of the IC177 for A200L A220L A250 W167 will be activated by OBD2 click and play. and with the AMG63 IC converter, we can make all MBUX AMG IC activated, vehicles support to 2021 for MBUX W205, W213, W217, W222, W238, W253, W257, W463
IC177 – w177(A), w118(CLA), w167(GLE), w213(E MY19-20)

IC213 – w205(C), w217(CL) facelift, w222(S class MY18~20), w213(E MY16~20), w238(CLS), x253(GLC) facelift, w257(CLS MY18~20), w463 G350/G500(MY19~21)

IC222 – w205(MY15-18, w217(S cabrio)pre-facelift, w222(S MY15-18), x253(GLC MY15-18, v222(Maybach), c190(AMG GT), w447(V)

IC204 – w204(C), x204(GLK), w197(SLS), w212(E), w218(CLS)

IC172 – w463(G), w166(GLS/ML), w292(ML), w176(A), w246(B), w156(GLA), w117(CLA), R231(SL), R172(SLK), x204(GLK), GLE,GLS

Old models – w164(ML), w171(SLK), w209(CLK), w211(E), w219(CLS), w221(S)
How to process?
Prepare the toolkit for Mercedes VCI like C4 SD Connect, C5, C6, or Ecom


or EDIC device like 5054a or Openport2.0

Windows laptop, we will assist you to set up the system remotely via TeamViewer if there's a need

Payment for the coding feature

Click and Play, Job Done with a smooth network speed

In case you have any doubts, please send us your VIN for free verification before your payment.
We are proud to release the global 1st BMW CCC CarPlay proxy smartbox with OEM level, we have prepared a limited of 50sets demo units for our global potential partners to test. Please take your time to fill in below form and we will come back to you shortly.
BMW CCC CarPlay Smartbox work via USB, all future OS MCU upgrade via USB, self USB LOG function, Plug and Play.
Please describe your business type?
Your company website?
What type of BMW tools you're equipped?
Please share some picturs of your company or workshop?
Please explain your compentency to part of our BMW CCC Carplay project?
What will be your targeted sales areas?
Quantities you could predict to install annual in your area
Would you love to grab a face to face meeting with us in Automechanika Frankfurt Set 11-15th?
Do you have a budget for local advertising ?
Verification code
Change Image
*