Unichip Smartauto project team is proud to release this universal HUD CarPlay Android Auto productfor automotive after market. Through innovative product design concepts, the device enables you to use navigation, listen to music, make calls, and send and receive messages while driving, without leaving your eyes from the road,and keep your hands on the steering wheel. Drive your car safer and all installation via Plug and Play, power supply via your OBD2 OBDii port plug and play, all future upgrades via USB.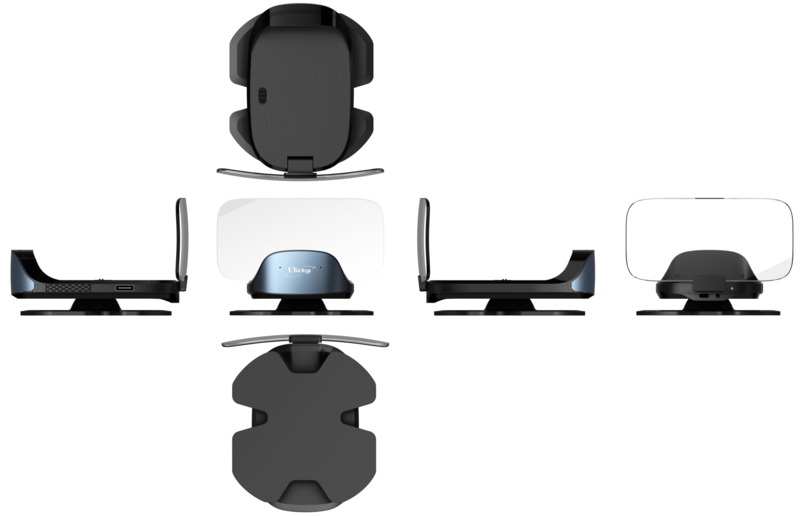 Specifications
Item No. HUDCPAA
Working voltage: 12V - 24V
USB output: 500ma
TFT screen resolution: 480*240
SNR: >60dB
Frequency response: 20Hz - 15Khz
Bluetooth version: Version 4.2+ EDR
Bluetooth effective distance: <10M
FM frequency: 87.5 - 108.0MHZ
Limit working voltage: 8 - 27V
Working temperature: -20 ~ 60 degrees
Projection size: 15-inch virtual image two meters away
Degree of distortion: <0.1%
Left and right channel senaration: >60dB
Bluetooth sound processing: A2DP(Advance Audio Distribution Profile)
Effective distance of Bluetooth & Micrphone: 0.5 - 2M
Transmit FM mode: Stereo digital PLL lock frequency the details of the selling point above, attracting and providing trust to your potential users.
Q: Will it work in my car?
A: HUDCPAA needs to be mounted on the dash in front of driver's eyes otherwise the driver will be unable to see the projection.
Make sure there's enough space between the dash and windshield, and your car come with OBD2 port or there is a cigarette lighter receptacle available to plug in the power cable.
Q: Where do you ship from? Will I need to pay customs duties?
A: To US customers we ship from a US warehouse (Utah). US customers don't pay customs duties either.
To EU countries we ship from a EU warehouse (Latvia). EU customers don't pay customs duties.
Orders from the rest of the world are shipped from China, and these customers may be subject to import duties. We recommend that you check with your customs what duties you will have to pay, and whether this is agreeable to you.
Please note that we do not mark orders as gifts or samples, nor do we reimburse any duties and fees you may have to pay to get the device.
Q: Does it work via Bluetooth or Wifi connection ?
A: It will work via both which demand your phone Bluetooth and Wifi enabled. We use 2.4Ghz Bluetooth for CarPlay verification and audio channel connection.
Q: Will it demanded for the future upgrades ? How ?
A: Definitely Yes. Our team will be supporting for the future upgrades, all future upgrades will be via USB port without return to us the HUDCPAA device physically. We will send you future upgrades download link and guide you how to upgrade via USB.
Q: will it work with both iPhone and Android smartphones ?
A: Yes, for Apple iPhone it will proxy work with Apple CarPlay and for Android smartphones will proxy work with Android Auto which you have to download AndroidAuto App into your phone and with your smartphone developer mode USB debug option enabled.
Q: Will it work without a smartphone?
A: No, HUDCPAA Drive will not work without a smartphone. It requires a smartphone running iOS 10 or later or Android 6 or later to operate. HUD Drive has no bulit-in GPS chip, which is why all location data must come either from a connected smartphone, or from an OBD II Bluetooth scanner.
Q: Will you HUD support videos and audio play ?
A: Yes we will be support USB videos, all below video format will be supported.
High performance video and audio codec
Decoding H.264 (Baseline and Main High Profile, Level 1-4.2) 30fps @1080p
Decoding VC-1 (Simple Main Profile, low, medium and high levels. Advanced Profile, levels 0-3) 30fps @1080p
Decoding MPEG1/2/4 (Simple Profile, levels 0-6. Main Profile, low, medium and high levels. ASP, levels 0-5) 30fps @1080p
Decoding Real-Video 8/9/10 30fps @1080p
Decoding VP6/7/8 (VP6.0/1/2, VP7 version 0-3, VP8 version 2(WebM)) 30fps @1080p
Decoding DivX (DivX3/4/5/6) 30fps @1080p
Decoding H.263 (Profile 0, levels 10-70.) 30fps @720x576
JPEG codec (Baseline interleaved) 8176x8176
Support *.mkv, *.mp4, *.avi, *.wmv, *.rmvb, *.rm, *.mpg, *.mpeg, *.ts, *.dat, *.asf, *.flv, *.vob, and so on file format Multi Format Audio CODEC (MP3, WMA, AAC, AC3, DTS, OGG, FLAC, APE, AMR, and so on).
Q: What will be the HUDCPAA device audio output ?
A: For audio output it will be utilising factory audio channel system via FM transmitter.
Q: I've placed an order. How do I track it?
A: When your order is shipped and we receive the tracking info from the carrier, we will email you the tracking code so that you can check the shipping status online.
EU orders are most probably shipped by DHL, US orders — by USPS or Fedex, whereas for the rest of the world carriers may vary. We thus recommend that you check your shipping status by entering your tracking code on 17track.net website.
Q: Is my payment information secure?
A: On our website we're using Paypal secure to process orders.
Q: What is the warranty & refund policy for the device?
A: Unichip Smartauto warrants that the included hardware product will be free from defects in materials and workmanship for one year from the date of purchase. You can also refer more details about the return and refund terms in www.unichip-tec.com site.
Q: Can we resell HUDCPAA or rebrand it ?
A: We're always open to new partnerships. That's why our team is actively looking for new retailers and distributors all around the world. Please email us at sales@unichip-tec.com in case you're interested.