Unichip USB DAB+ adapter was specially designed and developed for BMW Mercedes VW Audi Landrover Lexus etc., it's OEM integrated and plug and play.
What is DAB+ ?
DAB+ is the most widely adopted digital radio standard worldwide, on-air in more than 40 countries including Australia, United Kingdom, Germany, Italy, Switzerland, France, Norway, Poland, Malta, Denmark, Netherlands, Hungary, Thailand, Vietnam, Malaysia, Indonesia, Tunisia , Qatar, Kuwait, South Africa to name just a few. The European and Arab States Broadcasting Unions have adopted DAB+ as the preferred digital radio standard and there is widespread interest in rolling out DAB+ in the Asia-Pacific and Southern Africa.
Broadcasting on different radio frequencies defines the characteristics of AM, FM and DAB+ transmissions. Whilst AM uses the longer wavelengths in the medium wave bands allowing the signal to travel further, the band suffers from interference, particularly in dense urban environments. FM broadcasts on VHF Band II (88-108MHz), a higher frequency offering improved sound quality to AM, the band is subject to multipath interference and is congested so it limits the ability for radio to expand or offer new features and functionality.
DAB+ uses a far more advanced and technically robust transmission system and operates in Australia in VHF Band III 174-230MHz. Like other digital technologies, it uses higher frequencies which work extremely well within the coverage area but have a "cliff edge" drop off at the boundary of reception. DAB+ is both cost effective and spectrum efficient technology, allowing broadcasters to offer their popular analogue stations simulcast in digital quality, and significant choice from new DAB+ only station formats such as kids, dance, sport, urban, hard and heavy, chill and smooth. DAB+ uses a robust modulation which is designed for radio reception in mobile environments, such as vehicles and public transport.

Features and Benefits
DAB+ radio offers many features and benefits, enhancing the experience for radio listeners.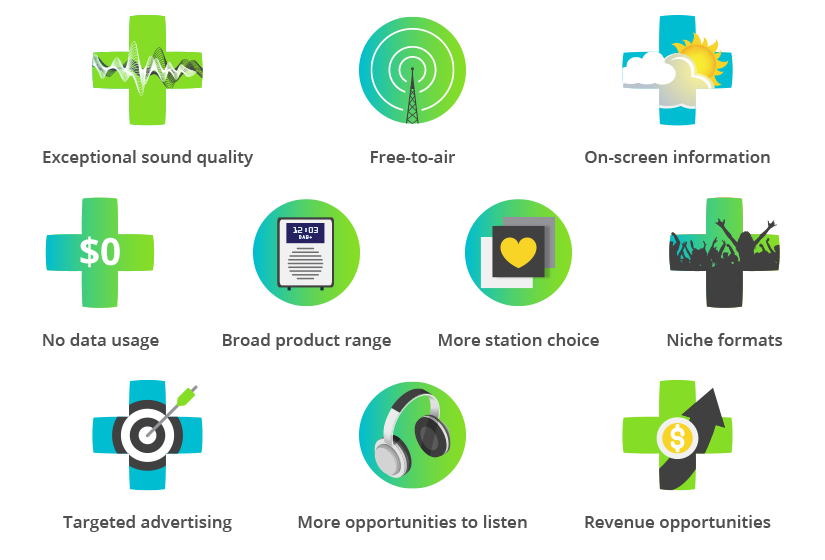 Do I Need DAB+?
DAB+ is now the standard format in several European countries, as well as Australia. Most of these are spin-offs from popular stations like Heart and Virgin, playing specific genres of music all day long. When the digital radio switchover eventually happens, it's likely that more stations will follow suit to take full advantage of the new technology.
How do I get access to DAB+ stations?
Firstly make sure you have a radio that is capable of getting DAB+. You can view our latest DAB+ digital radios or if you have an existing Pure digital radio check our list of DAB+ compatible radios to see whether it is DAB+ ready or has an upgrade available.
https://en.wikipedia.org/wiki/Countries_using_DAB/DMB